Dean's Message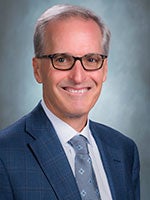 When the Brody School of Medicine was first created to address the health care needs of eastern North Carolinians, a dream came to life that this new school would prepare service-minded new physicians determined to make the lives of people in rural communities healthier and brighter. Today, Brody is the hub of a Division of Health Sciences that not only fulfills that mission but seeks new ways to bring health care to those who need it most.
The Brody Scholars Program represents the best of that promise made so long ago and the mission that is still alive today. It is one of North Carolina's most prestigious and comprehensive medical scholarship programs available to the best and brightest of our future physicians.
The Brody Family believed wholeheartedly in the promise ECU and the medical school made to provide access to health care for the region. That trust and belief has been celebrated through our regional and national impact on providing primary care and family medicine physicians as well as others who practice across the region and state. The Brody Family worked with university leaders not only to create the school itself but to ensure access to a quality medical education to those who are called to the profession.
The Brody Family's leadership, vision and philanthropy are present and visible across the school's departments and programs. Their consistent support remains a beacon of hope and promise through the Brody Scholars Program, which generally funds a full medical school education and experience for incoming Brody School of Medicine students.
The Brody Family created the Brody Foundation as a funding source for the scholarship program. The foundation began in 1979 as an independent 501c3 organization and is governed by its own board of directors.
Here are some current highlights of the program:
The Brody Foundation endowment is over $12.3 million.
The Brody Scholars Program serves as a strong recruiting tool for top students.
The Brody Scholars are awarded full tuition, fees and additional living expenses for four years of medical education — approximately $33,500 — while Brody Fellows receive approximately $10,000 annually.
The scholarship frees recipients to focus on education and choosing the specialty they want to practice, with minimal concern about debt.
In addition to financial support, Brody Scholars experience summer enrichment activities, special community service projects and unique clinical mentorship and supplemental academic opportunities.
Thanks to the commitments made by the Brody family, ECU and the Brody School of Medicine, these physicians practice not only medicine, but mission—by serving eastern North Carolina, our state and beyond in the spirit of healthier lives for all.
Michael Waldrum, MD, MSc, MBA
Dean, Brody School of Medicine
CEO, Vidant Health