Vaishnavi Siripurapu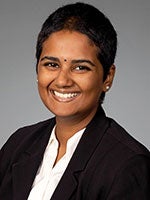 Hometown: Mooresville, NC
Career interests: Women's Health
Hobbies: Gardening, Reading, Art
Education: B.S., Biology; B.A., Women's and Gender Studies, Minor in Medical Anthropology, Honors and Distinction from UNC – Chapel Hill
---
Experiences
Clinical Research – Rare Diseases and Oncology
As a student researcher working with Dr.Shivani Sud and the Rare Diseases and Outcomes Database, I work to understand the cardiac angiosarcoma disease site. I engage in further clinical research work in Hematology and Oncology as well as Gynecologic Oncology. I hope to elucidate rare disease sites and promote further research by honoring patient stories.
Lead Health Curriculums Developer and Lead Grant Writer – InnovationNext
Through the InnovationNext Grant, I was able to work with a team of talented creatives and educators to develop an app to educate teen girls of color in the American South about teen pregnancy Prevention, our project was selected for second round funding.
Science Communications and Social Justice Writer
Writing is an important part of how I connect with myself and my community. I have written for the American Society for Cell Biology and Period Magazine national blog to share education about science, technology, and health. Additionally, I have written for Brown Girl Magazine, Monsoon, and The Siren about social justice issues.
Gender and Society Research – Women of Color and Medicine
Much of my humanities research involves women of color and experiences with the medical system focusing on maternal health outcomes, surgical encounter experiences, and social determinants of health. I have presented at the ALANAM Women's Institute Conference, Feminisms Here and Now Conference, Young Feminists National Conference, published in the Fifth World Journal and won the NC Governor's Changemaker Award for my contributions.
---
Upcoming Plans
As the first woman in my family to graduate from college and the first person in my family to attend medical school, I am overjoyed to have the opportunity to learn more about the human experience. I look forward to making lasting friendships, pursuing exciting humanitarian and research opportunities, and engaging deeply with my coursework to build a strong foundation to become a skilled and compassionate physician.
---