Arvind Mallikarjunan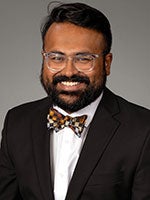 Hometown: Durham, North Carolina
Career interests: While I am still undecided about my career interests, I have a general interest in advancing the capabilities of remote healthcare through technology.
Hobbies: Music (Saxophone performance and composition), plants, reading, cooking, home-improvement projects, and biking.
Undergraduate Education: UNC Chapel Hill (2019) – B.A. Music | Exercise & Sport Science
---
Enrichment Experiences
Researcher at Duke University Department of Hematology – Duke Sickle Cell Comprehensive Care Center.
In my research position at Duke's Sickle Cell Comprehensive Care Center, my research surrounds two main areas of focus. First, my team has built and implemented various technologies to improve pain management, prediction, and chronic illness care for people living with sickle cell disease and other chronc illnesses under the direction of Dr. Nirmish Shah. My second area of focus includes the development of a functional assessment under the direction of Dr. Charity Oyedeji, with primary focus on development functional exercises to improve the long-term care and functional maintenance for poeple living with sickle cell disease.
Co-Founder of The Knowledge Block
The Knowledge Block is an organization that focuses on bringing school supplies to underserved community schools throughout North Carolina. The Knowledge Block works by directly donating supplies from donors to classrooms and teachers that directly need support to continue their students academic success. Two teachers are chosen per year and drives are held bi-annually. So far, The Knowledge Block has provided over $4,500 worth of school supplies to 4 different teachers in the state of North Carolina. During the COVID-19 pandemic, The Knowledge Block was able to provide 61 computers to students all over North Carolina at reduced or no-cost to them to help in the transition to virtual learning.
---
Upcoming Plans
I am excited to be a part of the Brody School of Medicine and to have received the Brody Scholarship. My upcoming plans are to gain a foundation of knowledge necessary to become a successful physician and enable successful interactions with patients. I am excited to shadow mentors, conduct research, and most importantly find ways to give back to the Greenville community. In addition to service, medical research, and coursework, my goals include establishing the Brody's first Asian Pacific American Medical Student Association (APAMSA) Chapter.
---