Gaddamanugu Uma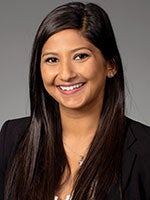 Hometown: Winston-Salem, NC
Career interests: I am still exploring areas of medicine that allow me to translate my passion for maternal and child health into clinical practice. I am currently interested in Pediatrics and OB/GYN.
Hobbies: Dancing (Indian classical dance), any Peloton workout, jigsaw puzzles, reading novels (anything from a good murder mystery to social medicine), learning to cook Indian food, spending time with family and friends
Undergraduate Education: UNC-Chapel Hill (2018) B.S Public Health | Health Policy & Management
---
Enrichment Experiences
Brody Scholars Summer Enrichment + NC Albert Schweitzer Fellowship Experience
This year, my classmate, Shantell McLaggan, and I were awarded the NC Albert Schweitzer Fellowship to establish a volunteer doula program at ECU Health. A growing body of literature suggests that increased access to doula care, particularly in underserved communities, can reduce rates of C-sections, preterm births, and low birth weights and improve overall maternal satisfaction. Despite the tremendous potential for doulas to help combat maternal health disparities, doula services are not covered by Medicaid insurance in NC, and financial barriers often preclude families from hiring private doulas. Thus, our project will provide continuous birth support doula care to uninsured, Medicaid-insured, and adolescent birthing patients at ECU Health, free of charge. With the support of the Brody Scholars Summer Enrichment Experience, we were able to provide birth doula training to 20 volunteer health professional students and begin implementing the ECU Health Birth Companions Program.
LINC Scholar: Health System Transformation and Leadership Distinction Track
As a LINC (Leaders in INnovative Care) Scholar, I spent this past summer learning about health systems science, health policy, and interprofessional team-based care through a variety of experiential activities. My favorite activities included traveling to the NC General Assembly to discuss the health needs of eastern NC with our legislators, and meeting with physician leaders at ECU Health to learn about their perspectives on clinical medicine and healthcare leadership.
---
Upcoming Plans
This year, I hope to continue mastering my preclinical coursework and focus my efforts on preparing for the USMLE Step 1 Exam.
I am also eager to continue developing the ECU Birth Companions program and begin volunteering twice a month as a birth doula on the L&D floor. As a LINC Scholar, I will also begin working with a mentor to develop a longitudinal healthcare quality improvement project that spans M2-M4 years.
Winston-Salem native receives ECU's most prestigious scholarship (PDF)
---