Kent Ryan Dickerson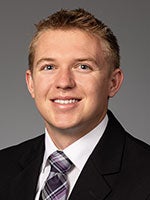 Hometown: Jamesville, NC
Career interests: Currently Undecided with Interest in Emergency Medicine, Surgery, Radiology
Hobbies: Hiking, Athletics, Woodworking, Board Games, Axe Throwing
Undergraduate Education: UNC Chapel Hill, B.S. in Biology with a minor in Chemistry
---
Enrichment Experiences
Medical Education and Teaching Distinction Track Scholar
The Medical Education and Teaching Distinction track has helped to develop my understanding of curriculum development and instructional methodology as it pertains to medical education. As a component of this track, I had the opportunity to assist in the instruction of the Summer Gross Anatomy course for DPT and CRNA students. During this experience, I designed study materials, developed exam questions, assisted and led students through the dissection of cadaveric specimens, as well as presented lecture material as a component of student coursework. One of the many roles that clinicians undertake in medical practice is that of an educator, and I am excited for the continued development of the skills required to be effective in this foundational role.
Emergency Medicine Interest Group (EMIG) – Sim Lab Coordinator
As a member of the EMIG leadership team, I help to plan and conduct supplemental learning events for students interested in emergency medicine. These events focus on team based care, and are often centered around simulated scenarios, which are carried out with the assistance of the simulation lab at the Brody School of Medicine. Our largest event of the year, I-Team Day, focuses on interprofessional development and response to an emergency disaster scenario, educating participants on the principles of triage as well as primary steps in patient care.
Brody PALS Facilitator (Peer Assisted Learning Sessions) – Medical Neuroscience
As a Brody PALS Facilitator, I led student groups to enhance and improve academic performance during the first year of medical school. The primary goal of these sessions was to increase student understanding through the development of educational activities and supplemental learning resources. While in this role, I also had the opportunity to work closely with the course director to determine how to best assist student development throughout the course. I look forward to using this experience to increase my effectiveness as an M1 student tutor in the Gross Anatomy and Medical Neuroscience courses this upcoming year.
Student Collaborative Resources for Understanding and Brody Success (SCRUBS) – Founder/President
SCRUBS is a student driven initiative that aims to develop resources for current and future cohorts that will pass through Brody. Members of SCRUBS participate in a variety of sub-committees that work to create resources for students, by students. These resources aim to offer the unique perspective from students who have walked in the same shoes to develop material we wish we had been exposed to within our courses. The hope is this organization will continue to grow and become a staple of the Brody student body, exemplifying the unique collaborative community that Brody offers, as well helping to help assist future students in their pre-clinical training.
Health Sciences Leadership Council
The Health Sciences Leadership Council (HSLC) promotes interprofessional student leadership and engagement through leadership development, inter-professional and community collaboration; and the sharing of knowledge and wisdom within and beyond the borders of ECU. Members represent multiple departments on the health science campus and work collaboratively to create interprofessional activities to further the understanding of a team approach to healthcare.
---
Upcoming Plans
I look forward to diving into the second year of medical school in an effort to synthesize all of the didactic material delivered during the first years into a clinically centered understanding of medicine. I hope to be in frequent communication with members of the incoming M1 class, so as to best assist this future group of physicians throughout their first year of educational development.
Jamesville native receives ECU's most prestigious scholarship (PDF)
---
Brody Awards
Huffman Award (2022)
This award of merit is presented annually to the first-year student who has demonstrated the highest level of academic achievement
M1 Class Appreciation Award (2022)
Voted on by the M1 class, this award is presented to the classmate who has been the most helpful to other members of the class by sacrificing their time for the promotion of the personal and professional development of the class
---