Dana Shefet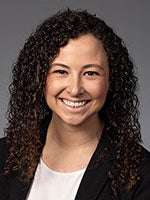 Hometown: Cary, NC
Career interests: Family Medicine
Hobbies: Running, Reading, traveling
Undergraduate Education: East Carolina University – B.S. in Public Health with Minors in Nutrition, Mathematics, and Science
---
Experiences
Himalayan Health Exchange Medical Expedition
Through the Brody Scholars Summer Enrichment Program, I had the opportunity to spend 3 weeks in July serving alongside a team of 28 individuals, including medical students and physicians in Spiti Valley in the Indian Himalayan mountains. During this time, we caravanned to 6 villages, held 10 clinic days, and served over 850 patients. With the help of translators, I interviewed patients, performed physical exams and formulated a differential diagnosis. I then presented it to the attending physician and together we would meet with the patients to give our recommendations and appropriate prescriptions which we were able to provide. This program allowed me to gain meaningful hands-on clinical experience while diving into the culture of Northern India.
Service-Learning Distinction Track (SLDT)
Through the Service-Learning Distinction Track, I participated in various service activities during my M1 summer, as well as two weeks of enrichment activities related to service-learning and epidemiology. Through this track, I have participated in the Service-Learning Track Lecture Series, longitudinal service experiences including assisting with Head Start summer health fairs, and will be completing a capstone project as well as earning a Rural Health Disparities certificate upon my graduation from medical school.
Brody Ambassadors President
The purpose of the Brody Ambassadors Mentorship Program is to help connect ECU undergraduate students with medical student mentors, as well as to increase the involvement of medical students within the community and to promote medical education.
Family Medicine Interest Group President
This organization informs Brody students about topics in Family Medicine, exposes them to different subspecialties, and learn about the match process from our M4s. This role also allowed me to serve as the American Academy of Family Medicine Student Delegate for Brody.
Pitt County Care Clinic Coordinator
I applied and was chosen to be Physician Recruitment Coordinator for the Pitt County Care Clinic, a free, medical-student led clinic that serves the citizens of Pitt county. As a coordinator, my clinic duties included organizing volunteers and physicians, ordering laboratory testing, and ensuring all patients' needs were cared for.
---
Upcoming Plans
This year, I hope to continue building my pre-clinical knowledge as I prepare for the USMLE Step 1 exam and expand on my clinical skills as I prepare for my rotations in my M3 year. I am excited to participate in a variety of extracurricular activities and continue to get to know the Brody community.
Cary native receives ECU's most prestigious scholarship (PDF)
---