Quashawn Chadwick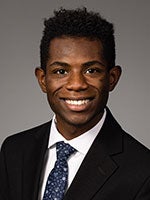 Hometown: Albemarle, NC
Career interests: Pediatric Psychiatry
Hobbies: I enjoy music, literature, foreign languages, and traveling.
Undergraduate Education: UNC School of the Arts
---
Enrichment Experiences
Sexual and Gender Diversity Committee
As a member of SGDC, I have the opportunity to receive information about LGBT initiatives taking place on ECU main campus as well as on the health science campus. The committee functions with members across disciplines to increase the visibility, advocacy, and well-being of LGBT individuals in the community. Upon joining the group, I was able to obtain SafeZone Training under the tutelage of Mark Rasdorf, the Senior Associate Director in Intercultural Affairs at East Carolina University and Director of the Dr. Jesse R. Peel LGBTQ Center. I felt privileged to have the opportunity to take part in the True Colors photography exhibit in Fall 2021 and voice those things which I find most resilient about the LGBT community. It has been a great honor to watch the work and listen to the counsel of Dr. Jesse R. Peel himself. I look forward to recommitting to my SafeZone training for 2025 and participating in more activities on campus in support of the organization.
Diversity Representative and Beyond
I was given the opportunity in 2021 to represent the class of 2025 as the Diversity Representative in the Medical Student Council. As a member of the council, I contributed to the MSC Philanthropy group's annual project, a fundraising tournament in partnership with Community Crossroads Center. I was glad to be an important contributor to the Diversity Week events which was a great divertissement in the busy schedule of M1 year. I felt a great sense of achievement when I gave a training lecture on building safe spaces, which touched on the importance of diversity, identity, and astute observation of history in order to create an environment which accommodates some of the most marginalized individuals in our society. Though I will not continue as diversity representative into the class of 2025, I am looking forward to continuing the essential goals that I aimed to fulfill in 2021 by founding a Medical Ethics Interest Group. My goal is to keep contributing to the discourse regarding diversity and inclusion at Brody and help shape the culture of our institution for future cohorts.
Comprehensive Campaign Kickoff Celebration
In Spring, 2022, I was given the chance to speak on behalf of the Brody School of Medicine Sim lab with my colleague and friend Ryan Dickerson as a part of the Comprehensive Campaign Kickoff Celebration. This was a major fundraising event offered by the Division of University Advancement which allowed each area of the health science campus to showcase their students and faculty in a visual and/or interactive way. I was able to demonstrate the novelty and utility of our institutions SIM lab, a growing piece of our education and essential tool in our dedication to patient safety. This event was a major success and great fun. I intend to rise to the occasion when called to vouch on behalf of the tools of our institution whenever I receive the opportunity to do such.
NHGRI iSPRING Program
This summer, I participated in research at the National Institutes of Health, Human Genome Research Institute's Immersive Summer Program for Research in Genomics [ISPRinG]. At the institute, I worked in the lab of Dr. Susan Persky, a researcher in the social and behavioral research branch and also the head of the virtual reality simulation lab. As an intern, I took on responsibilities regarding project design, presentation of new developments in our research at various forums, and I also participated in lectures, ground rounds, and trainings that spanned disciplines from internal medicine and primary care to social psychology, to genetics and genomics. In the end, I was able to present at the NIH's own summer research poster event as well as disseminate the results of my projects at ECU.
Summer Scholars Research Project
This summer, I also independently designed a research project whose completion I will pursue during my 2nd- 4th years as a Brody student. Under the guidance of Dr. Karlene Cunningham, I hope that my research can address concerns in health care equity specific to primary care in North Carolina.
---
Upcoming Plans
At this time, I am seeking the opportunity to obtain the research distinction track for my unique research project at Brody. I am also learning more about the Medical Research Scholars Program, where I might have the opportunity to return to the NIH, participate in, and publish research regarding new dynamics in primary care medicine. I am also planning to start a medical ethics interest group, where I can engage member of the Brody community in discourse on ways in which ethics can be robust and have real application in providing healthcare equitably. I am also preparing to take the first of my USMLE board exams, a pivotal landmark in my journey to become a knowledgeable, flexible, and empathetic physician.
---
Albemarle native receives ECU's most prestigious scholarship (PDF)
---