Miranda Freeman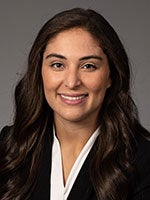 Hometown: Eagle Springs, NC
Career interests: Undecided
Hobbies: CrossFit, weightlifting, walking/snuggling my doggo
Education: :  Undergraduate:  North Carolina State University (2019) Master's in Physiology; The University of North Carolina at Chapel Hill (2017) B.A. in Psychology, minor in American Indian and Indigenous Studies
---
Enrichment Experiences
Yale Foundations of Bioethics
Through the Brody Scholars Summer Enrichment Program, I was able to participate in a four-day virtual course that highlighted the importance of ethics and how it relates to clinical settings, research, policy, law, and history of bioethics in July 2021. I was able to explore a variety of topics though lectures, case studies, and small-group-break-out sessions. Ultimately, I had the opportunity to connect with and meet people from around the world to discuss, learn, and better understand the key principles, unique frameworks, and current issues in bioethics today.
Summer Field Trip Experience
Through the Brody Scholars Summer Enrichment Program, I was able to provide an enriching and exciting experience to the children near hometown in July 2021. These children were part of the summer school sessions due to falling behind in the school year as a result of the Covid-19 pandemic. Many of the children are from Spanish speaking homes and/or underserved areas. By coordinating with The Discovery Place Museum, I was able to bring a catapult engineering experience to the children at Robbins Elementary.
North Carolina Medical Journal
I was able to write an article about adverse childhood experiences and resilience in Native American families and communities. I worked on the article over the summer in between my M1 and M2 year along with Alice Ammerman. It was a fantastic experience, and I was excited to be able to do some research on American Indian communities. The article can be found on pg. 408 in the NCMJ vol. 82 No. 6 if anyone is interested in reading it!
Radiology Interest Group
Along with a fellow Brody Scholar, I was able to help restart the radiology interest group during my M2 year. We helped rekindle an interest among not only our peers in our class but also classes above and below us. I was able to become Vice President of the interest group and help lead several meetings. It was great to get the group started again and see all the individuals who were interested in radiology.
Upcoming Plans
As a third-year medical student, I look forward to working my way through all the various clerkships. I am excited to finally be back in the hospital and clinics seeing patients again. I cannot wait to gain exposure to all aspects of medicine and finally decide what my passion will be. I still have studying to do as I prepare for each clerkship shelf and prepare for STEP 2.
---
Summer Enrichment Program (PDF)
---