Michael Burt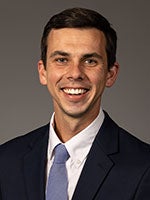 Hometown: Wilmington, NC
Career interests: Radiology, Oncology
Hobbies: Disc golf, running, podcasts, poetry
Education: Undergraduate: N.C. State (2014) – B.A. Psychology. Graduate: Post-baccalaureate coursework at N.C. State (2019).
---
Experiences
I'm a member of the education subcommittee for the RSNA MSTF. We're working on organizing Medical Student programming for RSNA 2022.
On-going projects
Working with an Ophthalmologist at UNC to design a training curriculum for Ophthalmology residents using Video Indirect Ophthalmoscopy (VIO) and a model eye to learn techniques for ROP screening with scleral depression.
Medical Education project to integrate more basic Radiology into the M2 system-based curriculum.
Upcoming Plans
As a third year medical student, I hope to continue to strengthen my clinical knowledge and skills within the context of team-based patient care. I am expecting this year to provide some clarity for my specialty choice. As for extracurricular projects, I'm interested in exploring novel ways to improve medical education, public health information dissemination, and digital communication more broadly. I am looking forward to another year engaging and learning with my fellow Brody Scholars!
---
Summer Enrichment Project (PDF)
---