Lindsey Burleson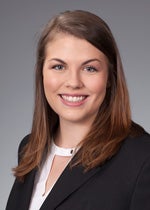 Hometown: Albemarle, North Carolina
Career interests: Obstetrics and Gynecology, Minimally Invasive Surgery, Pelvic Organ Prolapse, Sexual Medicine
Hobbies: Basketball, Running, Baking, Listening to podcasts, Jigsaw puzzles
Education Undergraduate: Western Carolina University (2016) – B.S. Chemistry
---
Enrichment Experiences
Medical Volunteering in Cusco, Peru
In 2018, the Brody Scholars Summer Enrichment Program generously supported my trip to serve as a medical volunteer in Cusco, Peru during the summer between my first and second year. I spent one week in the clinic triaging patients, performing physical exams with the providers, and learning some medical Spanish.
Research Distinction Track Scholar
In May 2018, I began conducting women's health research with Dr. Johanna Hannan in the Brody School of Medicine Department of Physiology. Our research investigates the effects of the pelvic radiation on female sexual and urinary dysfunction.
Sports Medicine Interest Group President
I was voted by my peers to serve at the Sports Medicine Interest Group President. I served as leadership for our main project: providing free sports physicals to middle and high school aged kids during a week night at JH Rose High school. In 2018, we provided over 60 free physicals to students, allowing them to participate in sports for the year!
Pitt County Care Clinic Summer Coordinator
I applied and was chosen to be a Summer Coordinator for the Pitt County Care Clinic, a free, medical-student led clinic that serves the citizens of Pitt county. Throughout the summer, some of my clinic duties included organizing volunteers and physicians, ordering laboratory testing, and ensuring all patients' needs were cared for.
Upcoming Plans
This year, I am thrilled to be applying to OB/GYN residency programs across the country and finishing research while spending time with my Brody family before we all take the next steps in our careers.