Kayla Mayes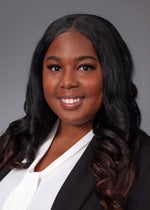 Hometown: Winston-Salem, North Carolina
Career Interests: Orthopaedic Surgery
Hobbies: DIY Home improvement projects, Interior Design, Cooking, Watercolor Painting, Traveling
Education: Undergraduate: NC Agricultural & Technical State University c/o 2017 B.S. Biology (Pre-medical Concentration)
---
Enrichment Experiences
Service Learning Distinction Track (SDLT) Scholar
The Service Learning Distinction Track has shown me how to effectively implement a service oriented project the Greenville community, through projects and community outreach. We have hosted a series of 3 summer camp workshop series in partnership with Building Hope Community Life Center in Greenville, NC. We continue to work with students in areas of health & wellness, career exploration, and leadership development through interactive workshops and activities hosted by our local health professional students.
Ethnic & Rural Health Disparities Certificate Program
Over two years I completed coursework in a curriculum designed to teach students to inform, educate, and empower people to address ethnic and rural health disparity issues. Through this program we developed culturally competent projects, plans and policies designed for specific ethnic and rural communities in the United States and global communities around the world. These discussions and projects enhanced my abilities to conduct research in a culturally humble and inclusive manner.
Brody School of Medicine Orthopaedic Surgery Interest Group, Co-President and Founder
Over the last year we created the Orthopaedic Surgery Interest group to expose students to the field of Orthopaedics as interest grows at Brody. We have coordinated and planned programs to promote professional development of students interested in orthopaedics. We also host workshops and meetings to connect students to orthopaedic resources, mentors, and research opportunities. This year we have held a series of Alumni Talks, and our First Youth Orthopaedics Simulation Day. We look forward to increasing outreach.
Brody School of Medicine Chapter of the Student National Medical Association (SNMA), Co-President 
Serving as SNMA Co-President was a transformative experience. We served the campus and community by making individuals aware of health disparities, providing service to the Greenville community, and creating an atmosphere to promote the success and career development of physicians from minority and underserved communities. During my term, we were able to support the community and bring awareness to social issues through volunteering at COVID-19 screening events and collaborating with organizations and offices to host a Healthcare Providers March for Black Lives. We implemented new programs including Walking Wednesdays, a Fitness Challenge for Obesity Awareness, SNMA week, Financial Health and Wellness Workshops and others. I will continue to support the mission and goals of SNMA by serving on committees in our chapter.
Melanin Healthcare Professionals, Co-Founder and President
I cofounded Melanin Healthcare Professionals with dental student, Tia Robinson. This is a very unique organization because of the interdisciplinary approach. We are the first and only minority graduate organization that promotes collaboration between health science disciplines. In our organization there is an emphasis on collaboration between the graduate health science related programs at ECU. The student representation from different programs continues to expand and also has incorporated relevant undergraduate programs such as nursing to bring individuals in healthcare careers together.
Joint Social Action Committee, Co-Founder
This committee was founded to build a grassroots network of health affiliated stakeholders in Greenville to address disparities in health care through local activism, policy advocacy, and community health support. We were able to coordinate and host a Healthcare Providers March for Black Lives in July 2020 which had over 200 attendees. In the future we have plans to create more programs to address needs of marginalized communities including but not limited to people of color, LGBTQ+ communities, and people with disabilities.
Brody Antiracism Curriculum, Invited Committee Member
Through the Antiracism committee, I have been able to work with faculty to determine the best approach to integrate materials to educate students. I worked with other students to implement and facilitate a workshop with our Class of 2024 medical students to teach them about racism and bias in healthcare. In the workshop we worked through case based scenarios to show students how to utilize different approaches when confronted with racism. This training has been incorporated into the mandatory orientation for new Brody students as a recurring requirement for all students.
Brody Committee on Inclusion and Race Across Curriculum with Climate Equity (IRACEE), Invited Committee Member
As a member of the IRACEE committee, I have been able to aid in the process of developing ideas for programs to improve relations between faculty/staff, and students to address racism and promote inclusion.
Research Involvement
Brody School of Medicine at East Carolina University
Boyette Orthopedics & Sports Medicine

Disparities in Comprehensive Joint Replacement Guidelines
Principal Investigator: Kayla M. Mayes, Faculty Advisor: Deanna Boyette, MD
Evaluate whether the parameters set for the Comprehensive Joint Replacement Model have resulted in disparities in access to total hip or knee replacements for patients

Service-Learning Distinction Track

Summer Programming for Youth in Eastern North Carolina
Principal Investigator: Kayla M. Mayes, Faculty Advisor: Ruth Little, PhD
Investigate impacts of providing mentorship to adolescents through summer programming and longitudinal afterschool workshops

Department of Cardiovascular Sciences

Smoking Cessation and Pulmonary Lobectomy Outcomes
Principal Investigator: James Speicher, MD
Investigate the effect of smoking and timing of smoking cessation on postoperative complications following pulmonary lobectomy through comparison to nonsmoking patients at initial preoperative visit
Clinical Outcomes in Adult Cardiac Surgery
Principal Investigator:  Shahab Akhter, MD
Examine institutional data to investigate outcomes and identify risk factors for adverse outcomes in the adult cardiac surgical population to improve patient care at the East Carolina Heart Institute.
Upcoming Plans
It has been rewarding to utilize my foundational knowledge and skills to interact with patients daily in the clinical setting. I am eager to towards elimination of healthcare disparities in throughout my career. Currently, I am in the process of applying for residency in Orthopaedic Surgery. I am passionate about improving patient functionality, musculoskeletal health, mentorship and diversity in the field of orthopaedics.
In addition to my academic responsibilities, I hope to progress my research and continue working with local partners to serve the Greenville community. As a fourth year Brody Scholar, I look back on the last three years and how this program has been a major contributor to my medical school experience. We are anticipating many exciting programs this year and approaching a monumental year in the legacy of the program. I look forward to another engaging year with our Brody Scholars as well as participating in our events, seminars and service projects.
---
Brody Scholar: Kayla Mayes