Helina Gan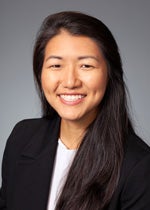 Hometown: Clemmons, NC
Career interests: Family Medicine, LGBTQ+ care including gender-affirming care, Full Spectrum Family Planning, Palliative care
Hobbies: Running, hiking, painting with watercolors, listening to music, binge-watching Netflix, air-frying, eating
Undergraduate Education: UNC-Chapel Hill 2017 – B.S. Biology, B.A. Psychology
---
Enrichment Experiences
Himalayan Health Exchange Medical Expedition
Through the Brody Scholars Summer Enrichment Program, I had the opportunity to spend 3 weeks in July serving alongside other medical students and physicians in the beautiful Spiti Valley of the Indian Himalayan mountains. During this time, we caravanned to 6 villages, held 9 clinic days, and served over 700 patients. With the help of translators, the other medical students and I interviewed patients, performed physical exams and formulated a differential diagnosis. We would then present to the attending physicians and together we would meet with the patients to give our recommendations and appropriate prescriptions which we were able to provide. For patients with more chronic health conditions, we would refer them to their local physicians and the program founder, Ravi, would follow-up with them to ensure they receive appropriate care. This program allowed me to gain meaningful hands-on clinical experience while immersed in breathtaking landscapes and fascinating cultures.
Service-Learning Distinction Track (SLDT)
Through the Service-Learning Distinction Track, I have continued to collaborate with other SLDT members to further develop our community projects. We have enrichment meetings throughout the year to discuss service-related topics including sustainable service, social and political advocacy, fundraising, and many others. I am currently working on a project to start surveying patients on specific dietary habits during pregnancy in the ECU OB/Gyn Clinic. The information gathered from the survey will guide the creation of community-tailored dietary recommendation material.
Albert Schweitzer Fellowship
During my M1 year, I partnered with an ECU dental student to design a community service project that was awarded the Albert Schweitzer Fellowship. Our project works to adapt a Social Determinants of Health Care Management program into a dental setting. We are working with the James D. Bernstein Community Dental Clinic to screen patients for food insecurity, nicotine use, and mental health concerns. As the care managers, we engage patients who screen positive and provide additional information about community resources and offer personalized plans to link with these organizations.
Upcoming Plans
I am incredibly excited to finally start my Family Medicine journey! During my fourth year, I will continue to explore the scope of Family Medicine through a variety of electives and rotations. I plan to apply to residency programs all around the country. I hope to match to a program that primarily focuses on underserved community and allows for robust training opportunities in full-spectrum family planning and gender affirming care. I also plan to take advantage of this last year to spend quality time with my Brody family!