Heerali Patel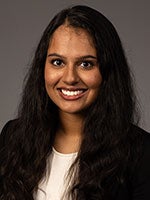 Hometown: Winston-Salem, NC
Career interests: Pediatrics, Internal Medicine, Psychiatry
Hobbies: Cooking, attempting to bake, taking walks with my dog, traveling
Education: Undergraduate Education: UNC Chapel Hill (December 2019) – B.S. Biology with Chemistry and Neuroscience Minors
---
Enrichment Experiences
PhysioCamp Vice President
This role has allowed me to connect with K-12 students across Pitt County. PhysioCamp leaders and volunteers travel to their schools and to Joy Soup Kitchen in order to provide opportunities to engage in health-related activities. We have done CPR crash courses to expose children to emergency care. We are currently bringing organs from the Brody Pathology Department and models provided by the PhysioCamp organization to aid in demonstrating basic anatomic and physiologic principles.
Brody Ambassadors President
I served as the President of this organization during my M2 year. This organization connects undergraduate and high school students with Brody through mentorship programs, Pathology Night, and Pre-Health panels. It allows students to educate future health professionals about a variety of health and STEM topics.
Pediatric Interest Group Co-President
I served as the Co-President of this organization during my M2 year. This organization informs Brody students about topics in Pediatrics, exposes them to different subspecialties, and learn about the match process from our M4s. This role also allowed me to serve as the American Academy of Pediatrics PIG Delegate for Brody.
Interdisciplinary Oral Medicine Study Club Medical School Vice President
This organization was founded at ECU School of Dental Medicine to increase awareness about oral presentations of systemic diseases through research journal clubs, interactive speaking engagements, and clinical hands on experiences. My role enables the organization to contribute toward their goal of providing interprofessional education across the health science professions at ECU.
Brody Scholars Summer Enrichment Experience
During the summer between my M1 and M2 years, I had the opportunity to volunteer with the Pitt County Council on Aging at all five of their locations (Greenville, Farmville, Bethel, Ayden, Fountain). A few Brody students and I went to each location twice to paint nails for the members of the senior centers and use paint markers to decorate canvases. I was able to continue this work into the school year with wreath making and flower arrangement activities as well. Additionally, Miranda, Michael, and I virtually participated in the Yale Foundation of Bioethics Program in order to expand our knowledge concerning ethics in the clinical space, research setting, and more. This opportunity also allowed us to network with faculty and students across the US.
Upcoming Plans
During my M3 year, I am excited to learn directly from patients and further explore my career interests. In addition to these academic goals, I look forward to continue working on research projects. Finally, I am excited to participate in Brody Scholars events in-person and engage with exceptional Brody faculty, my fellow Brody Scholars, and the Brody family.
---
Summer Enrichment Program (PDF)
---