Grant O'Brien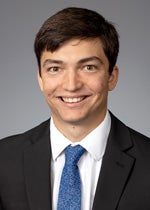 Hometown: Concord, NC
Career Interests: Family Medicine
Hobbies: basketball, tennis, soccer, running, reading
Undergraduate Education: Duke University (2017) – B.S. Neuroscience
---
Enrichment Experiences
Co-Director of the Greenville Community Shelter Clinic + Albert Schweitzer Fellowship
I serve as a co-director of the shelter clinic along with my classmate Anna Beth Robertson. The shelter clinic is a free, medical-student run clinic that organizes care on-site at the Community Crossroads Center in Greenville with volunteer physicians, pharmacists, social workers, and students. During our time in charge of clinic operations as M2's, we developed telehealth capabilities for the clinic to continue to provide quality care to residents of the shelter while keeping our patients and volunteer providers safe.
We also completed an Albert Schweitzer fellowship project as part of our service with GCSC. We were able to use Schweitzer funds to provide prescriptions at no cost to patients and worked with shelter leadership and the Pitt County health department to facilitate Covid vaccinations for shelter residents. As M4's, we will be responsible for managing the clinic's finances and serving on the advisory board.
LINC Scholar: Health System Transformation and Leadership Distinction Track
As a LINC (Leaders in INnovative Care) Scholar, I spent the summer after my M1 year learning about health systems, quality improvement, and advocacy through readings, lectures, projects, and interviews with influential leaders in medicine and policy across North Carolina. I have been working on a longitudinal quality improvement project in the ECU Outpatient Pediatrics clinic with Dr. Shaundreal Jamison on improving HPV vaccination rates in the clinic.
Hazelden Betty Ford Summer Institute for Medical Students
I was fortunate to participate in a weeklong immersive experience at leading national rehabilitation center in Center City, MN for patients with substance use disorders. I got to learn firsthand from patients about the challenges and successes of their journeys. Addiction medicine physicians taught us about the biological basis of addiction and evidence-based approaches to treatment.
Vice President, Medicine-Pediatrics Interest Group; Vice President, Public Health Interest Group
I helped to organize lunch talks with physicians in Med-Peds and Public Health to talk to Brody students about their respective fields.
Upcoming Plans
In my fourth year, I am excited to continue to build my clinical skills and to go through the residency application process in family medicine. I look forward to finding a program that will prepare me to be a full-spectrum family physician with confidence taking care of the young and old (and pregnant!) with mentors to help me develop effective advocacy and leadership skills. My free time will be spent playing pickup soccer, reading books, planning a wedding, and telling everyone about my optimism for the Jon Scheyer era of Duke basketball.
---
Brody Scholar: Grant O'Brien