Brandon Garcia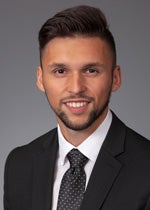 Hometown: Browns Summit, North Carolina
Career Interests: Family Medicine, Med-Peds
Hobbies: Soccer, traveling, watching movies, food exploring
Education: Undergraduate: University of North Carolina at Chapel Hill (2017) – B.S. Biology, minors in Chemistry and Spanish for the Professions
---
Enrichment Experiences
Leaders in Innovative Care (LINC) Distinction Program
I was selected to be a part of the LINC Distinction Track. The program started in the summer of 2020 and will continue through the entirety of my medical school career. During the summer of 202, we participated in various sessions and discussions to enhance our knowledge in patient safety, quality improvement, population health, and inter-professional team-based care. We also participated in various small projects to help solidify the importance of leadership in medicine. Additionally, I have been paired with a mentor to participate in a project through the ECU Family Medicine department. The goal of my project is to increase awareness of social determinants of health and help those patients in need by screening patients in the Buccaneer module for SDOH.
Pitt County Care Clinic Executive Co-Director
Pitt County Care Clinic is a free, medical-student led clinic that serves the residents of Pitt county offering acute primary medical care and medication. I was selected to be the co-director of PCCC during my second year. As co-director, I oversaw and helped with the organization of clinic. This included handling records requests, scheduling physician and volunteer sign ups, and reporting to the board of directors.
Latino Medical Student Association Co-President
During my second year, I was selected to be the co-president of LMSA. During my time as co-president of LMSA, my goal was to increase the cultural awareness of the Latino community and increase Latino representation in medicine. Although the organization was limited due to the pandemic, we were able to host lunch and learn sessions about various topics, participate with a local organization to collect donated clothes for farm workers, and partner with SNMA to collect canned goods for the local community.
Upcoming Plans
I am excited to pursue family medicine as my future specialty. As I begin my fourth year and await the residency application process, I will continue to broaden my knowledge through and explore the scope of family medicine through a variety of electives and rotations. I will also continue to strengthen my project with LINC to meet the needs of patients with SDOH. Lastly, I am looking forward to participating in the amazing projects and seminars led by the Brody Scholar program. Outside of medicine, I am incredibly excited to start a new life with my soon-to-be wife, while continuing my hobbies.
---
Brody Scholar: Brandon Garcia