Ann Tooley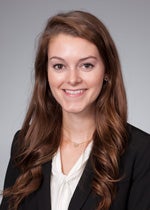 Hometown: Kittrell, North Carolina
Career interests: Obstetrics and Gynecology
Hobbies: Volleyball, cooking, trying new restaurants, reading, Pilates, thrift shopping/style on a budget
Education: Undergraduate: North Carolina State University (2016) – B.S. Nutrition Science
---
Enrichment Experiences
Pitt County Council on Aging, Meals on Wheels
During the Covid-19 pandemic I was able to volunteer to drive with Meals on Wheels, an organization that works to reduce food insecurity and social isolation among the senior population. With some of my classmates, I was able to deliver meals and provide a friendly (masked) face during an otherwise uncertain time.
Patient Education Project through the APC Society of '67 Pathology Trainee Grant in Healthcare Innovation
I currently serve as a Class Representative on the Medical Student Council (MSC). In this role, my goal is to work to ensure that the needs of the class are brought before the council and to plan events that foster class unity. I also work with the rest of MSC to act as a liaison between the medical school administration and the students.
Medical Student Council Class Representative

I am currently working on a research project aimed at improving patient understanding of pathology reports through the use of educational videos.
Assisted Living Community Volunteer (Summer 2018)

With the support of the Brody Scholars Summer Enrichment Program, I planned and implemented activities in a local assisted living community. These activities included art, music, games, and social events aimed at supporting the mental and physical well-being of the residents.
Brody Ambassadors Co-Chair (2018-2019)

Previous Co-chair of the Brody Ambassadors student group at Brody. The purpose of the group is to help connect ECU undergraduate students with medical student mentors, as well as to increase the involvement of medical students within the community and to promote medical education.
Upcoming Plans
This year, my main focus is applying to residency programs and I am very excited to be pursuing a residency in Obstetrics and Gynecology! I also hope to make the most of my M4 year by learning as much as I can and gaining exposure to areas of medicine that I may not get to experience again once I graduate. Outside of school, I hope to devote a little bit of time to my hobbies by reading a few good books and trying out some new recipes!