Amber Priester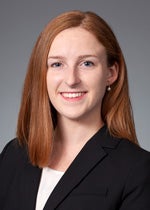 Hometown: Supply, NC
Career interests: Obstetrics and gynecology, healthcare disparities
Hobbies: Reading, painting, Peloton, hiking
Undergraduate Education: University of North Carolina at Chapel Hill (2018) – B.S. Biology, second major in Anthropology, minor in Chemistry
---
Enrichment Experiences
Medical Volunteering in Cusco, Peru
Through the generosity of the Brody Scholars Summer Enrichment Program, I was able to volunteer in a clinic in Cusco, Peru that serves low-income patients. During my time there, I performed physical exams with the providers, observed the healthcare system in Peru, and practiced my medical Spanish. I didn't know that I wanted to be an OB/GYN yet, but I did spend a lot of time in the obstetrics clinic that week!
Medical Education & Teaching Distinction Track (MET)
Through the MET distinction track, I served as a teaching assistant in the summer of 2019 for the Allied Health Science Gross Anatomy course, where I taught PT and CRNA students. In addition to longitudinal tutoring experiences in anatomy and neuroscience, I have also completed graduate courses in adult education and will graduate with a certificate in Education in Healthcare Professions.
Greenville Community Shelter Clinic (GCSC), Pharmacy & HIV Co-Coordinator
During my second year, I served as a coordinator of GCSC, one of our student-led clinics in Pitt County that provides free medical care to uninsured patients. My role involved delivering prescription medications to residents of the shelter, getting patients with preliminary positive HIV tests into appropriate follow-up care, and taking shifts as the clinic leader. I loved getting to volunteer in the clinic, where I was able to serve my community while also building my clinical skills early in medical school.
Southeast Regional Representative, National Medical Student Committee, Association of Women Surgeons
I served two terms on the AWS National Medical Student Committee as the Southeast Regional Representative. In addition to serving as a liaison between my chapters and the national committee, I also planned and led two annual conferences within our region and got involved in international endeavors, including bystander training workshops and international panels.
Upcoming Plans
This year, I am applying into OB/GYN residency programs around the country and spending time with my family and friends before residency training begins.